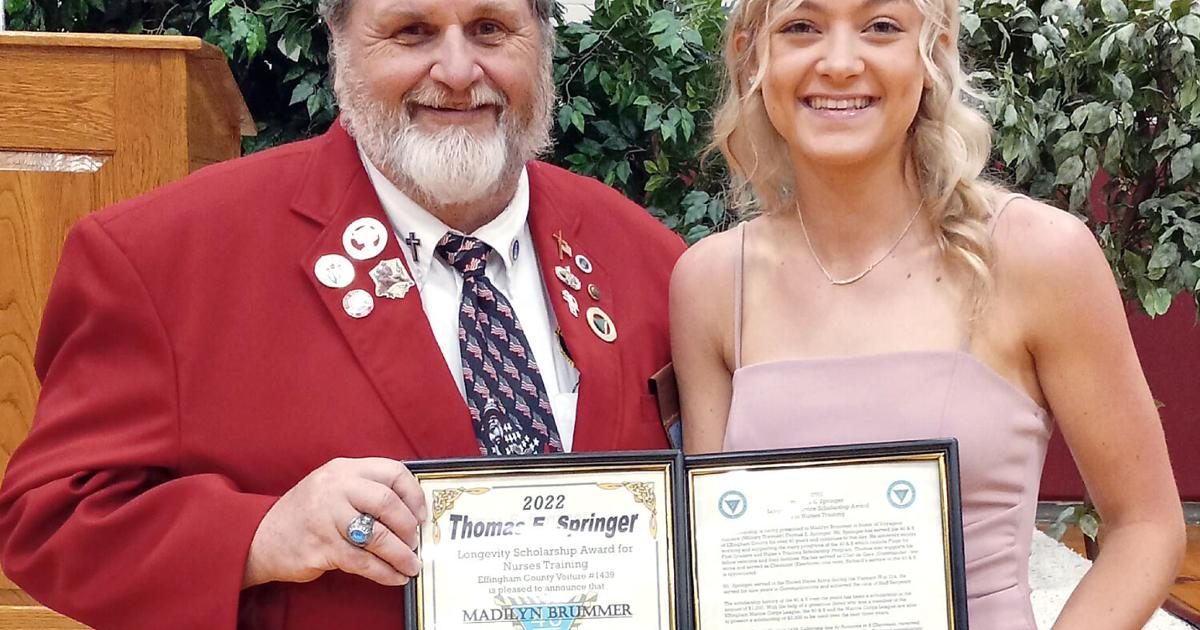 Each year, Effingham County 40 and 8, V-1439 presents Nursing Education Scholarships to selected Effingham County high school students.
This year, Dieterich High School senior Madilyn Brummer and Effingham High School senior Talia Coburn each received a scholarship from Stationmaster (Commandant) Ralph Rounds. The scholarship is valued at $3,000. Brummer and Coburn are the 113th and 114th recipients of the Nurse Education Scholarship.
The scholarships have been named the "Longevity Service Scholarship" to honor members who have been part of Effingham County 40 & 8 for many years.
Brummer's scholarship is named after Thomas Springer of Effingham. Springer served during the Vietnam era in the United States Army. He served nine years in communications and attained the rank of Staff Sergeant. The Coburn Fellowship is named after Richard Niebrugge of Effingham. Richard served with the Illinois National Guard at Effingham during the Vietnam era. He served for eight years working with mortars and attained the rank of sergeant.
Both Springer and Niebrugge have been members of 40 & 8 for over 40 years and their service at 40 & 8 is greatly appreciated.
This year, 40 & 8 was able to present the $3,000 scholarships thanks to a donation from the Effingham County Marine Corps League.
Brummer, who is the daughter of Scott and Tracy Brummer, plans to attend Lake Land College. Coburn, who is the daughter of Jessica and Michael Overton, plans to attend Eastern Illinois University.