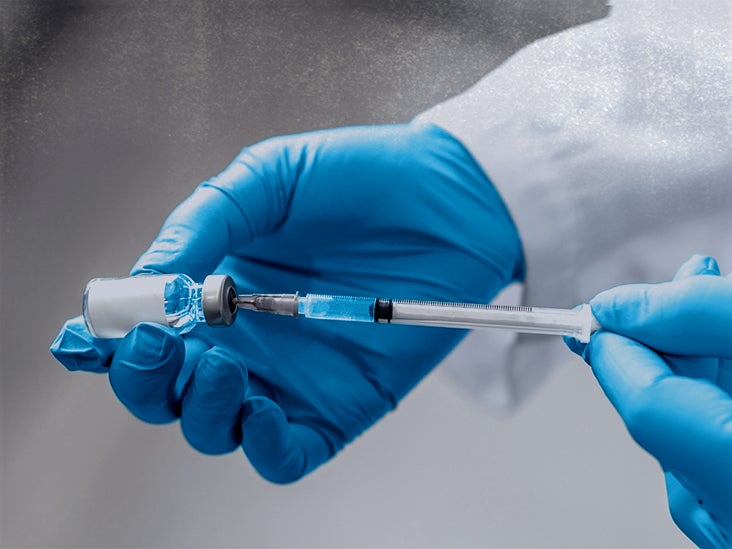 A man with recurring head and neck cancer takes part in a clinical trial to prevent his cancer from coming back.
The treatment is designed to train the individual's body to recognize and defend the body against these specific cancers.
Although other cancer vaccines already exist, this specific injection is personalized to the person's DNA.
In a major development in cancer research and treatment, a man in the UK has received what doctors call a 'cancer vaccine'. The treatment is designed specifically for this participant with the goal of preventing the recurrence of their cancer.
Treatment consists of a series of subcutaneous injections, which healthcare professionals administer under the skin. the test is not yet complete, but if successful, the vaccine will be revolutionary in the field of cancer treatment.
Graham Booth is a father of five and lives in West Kirkby in the UK. He was first diagnosed with head and neck cancer in 2011 and, despite treatment, the cancer returned four more times.
"When I received my first cancer treatment in 2011, I felt like the cancer wasn't going to come back," Booth says. "My biggest fear came true in 2016 when she came back, then in 2019, then two cases in 2021."
The treatments Mr Booth received included facial surgery, reconstruction and radiation therapy.
Radiation therapy can cause a number of side effects, some of which can be debilitating. Possible side effects include:
bladder problems
headache
mouth sores
thyroid problems
lymphedema
secondary cancers
After Mr Booth's cancer returned in 2021, he began to feel hopeless. However, he is now taking part in a clinical trial to try and prevent his cancer from coming back.
"Last year, it felt like the cancer was progressing, and there weren't many options left," says Booth. "This clinical trial opened new doors for me and gave me some hope that my cancer will not come back. And it could open doors for other people. I hope to see a better future. A little hope that he never comes back again, which would mean the world to my family and everyone around me.
Clatterbridge Cancer Center in Liverpool, UK is testing a vaccine called TG4050 to treat head and neck cancers, as well as ovarian cancer.
France-based biotech company Transgene manufactures the treatment. the business focuses on the design and development of targeted immunotherapies for the treatment of cancer.
Some cancer vaccines are already available, including a vaccine against human papillomavirus (HPV), which can cause cervical cancer.
However, the injection that Clatterbridge is testing is different because it is custom-made based on the person's DNA.
Dr Christian OttensmeierProfessor of Immuno-Oncology at the University of Liverpool and Consultant Medical Oncologist at Clatterbridge Cancer Centre, is oversee the trial.
"It's a really exciting day in this important and potentially groundbreaking research," says Dr. Ottensmeier.
Mr. Booth will receive more personalized immunotherapy injections over the next year. If the vaccine is successful, it will train his immune system to prevent the cancer from recurring.
"To have reached the stage of a patient receiving this treatment – which only a few years ago was considered science fiction – is truly incredible."

– Dr. Ottensmeier
Although Dr. Booth is the first participant in this clinical trial, Dr. Ottensmeier says researchers are adding more patients and hope they can eventually help people with other types of cancer.
"We are truly grateful to Dr. Booth for agreeing to participate in this clinical research trial," says Dr. Ottensmeier. "It's great that we've been able to move from the theoretical stage of this research to creating a treatment for real people. We've all waited so long for this day to come. We believe this will make a real difference for patients. that we process in Clatterbridge.
the Echo of Liverpool follows the trial and reports on Twitter that Dr. Ottensmeier believes that this treatment will have fewer side effects compared to other cancer treatments.
He notes that there are likely to be far fewer side effects because, unlike chemotherapy and radiotherapy, healthy tissues and cells should not be damaged.
Dr. Guillermo De Angulo Recount Medical News Today that this treatment is promising.
"Although I don't know the details of the treatment this patient received, the medical and scientific communities have been working on immunotherapy for some time," said Dr. De Anuglo.
"Vaccines created from a patient's actual tumor tissue have shown great promise."

– Dr. De Angulo
Dr. De Angulo is a hematologist and pediatric oncologist at Nicklaus Children's Hospital in Miami.
Dr. Soheila Borhani, physician and cancer researcher at the University of Illinois and author of the forthcoming book Deep learning in medicinespoke with DTM regarding the trial.
"One of the main reasons why cancer cells proliferate and spread throughout the body is the inability of the immune system to identify and eliminate them in time," Dr. Borhani said.
Dr. Borhani mentioned that this type of cancer vaccine is a "relatively new form of immunotherapy that boosts the recipient's immune system by training it to find and destroy otherwise difficult-to-recognize cancer cells."
"This is done by targeting certain proteins called neoantigens, which are only present on the surface of malignant cells," Dr Borhani explained. "The big challenge here is that there are a huge number of possible neo-antigens that can be created as a result of genetic mutations in tumor DNA."
The doctor mentioned that it is not possible to target all neo-antigens at once and that the trial uses artificial intelligence (AI) algorithms to determine which neo-antigens to prioritize.
"These algorithms are trained on large amounts of historical data to produce an individualized list of the most immunogenic sequences for each patient," Dr. Borhani said.
"Given the proprietary nature of the AI ​​model used in this study, as well as the data used to train it, we have to wait until the end of the trial to find out if this vaccine is effective or not."
"Either way, thanks to the combined power of AI and DNA sequencing, we are closer than ever to a breakthrough breakthrough in cancer treatment."

– Dr. Borhani