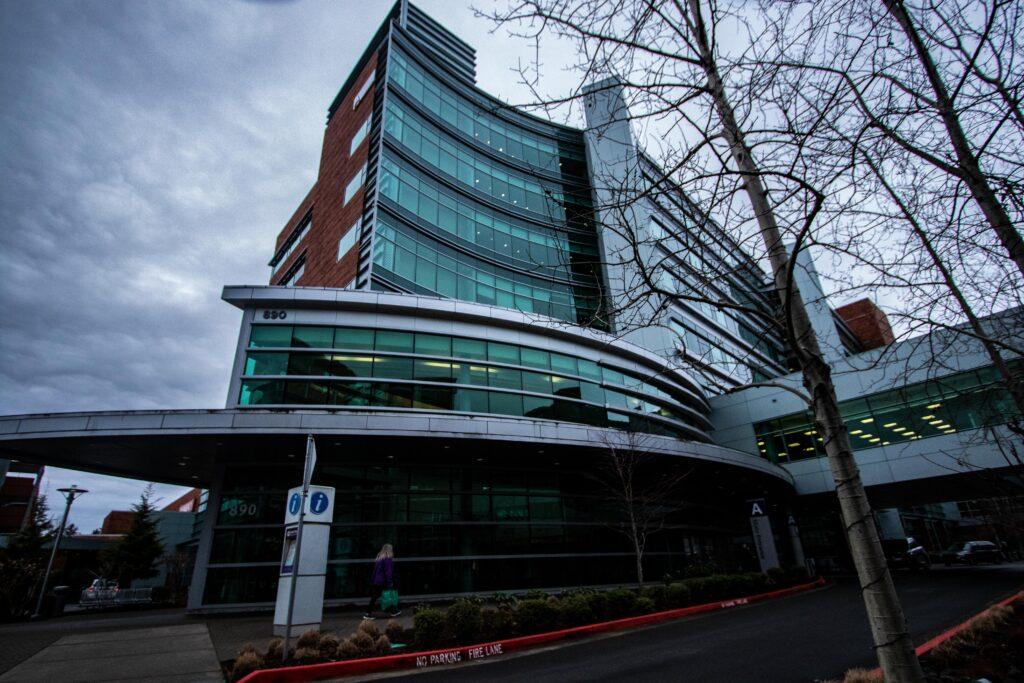 A top federal health and human services official visited Oregon for the first time Thursday and Friday, checking on the state's pandemic response, behavioral health care and labor shortages in hospitals and clinics.
Ingrid Ulrey, regional director for the federal Department of Health and Human Services based in Seattle, was scheduled to meet with leaders of the Oregon Health Authority on Friday.
Although she doesn't hand out federal dollars, she is Oregon's link to the federal agency that oversees crucial services for hundreds of thousands of Oregonians. About 1.4 million people in Oregon, for example, have free Medicaid medical coverage.
"It's really beneficial to have this strong relationship with the regional office," said Katie Harris, director of rural health and federal policy at the Oregon Association of Hospitals and Health Systems. Harris said the regional director can smooth out tangled red tape, allowing Oregon entities to get federal assistance faster.
Ulrey was named in November to head the office of health and human services responsible for Washington, Oregon, Alaska and Idaho. This is his first official visit to a state outside of Washington.
Ulrey told the Capital Chronicle she was in Oregon to see how federally-supported programs are working and to talk about pressing issues, like behavioral health care, which President Joe Biden recently named a priority.
"There has been a call to really focus on the nation's mental health, to move away from stigma and improve access to quality integrated services," Ulrey said, and "let people know easier where they can get help."
State officials are preparing for the launch of a nationwide crisis number to be launched in July.
Oregon has failed to meet the state's mental health needs. National surveys consistently rank the state at or near the bottom in providing access to mental health and addictions services and at or near the top in need.
Ulrey said it would help integrate "behavioral health in the health system so that primary care practices have a partnership with behavioral health agencies and automatically refer people. She also said sufficient mental health support in schools was important.
Over the past two sessions, the Legislative Assembly has allocated more than $500 million for mental health and addictions services, but much of that money has yet to be spent.
A big issue for mental health and addiction service providers is finding staff.
"Many states are taking different approaches to attracting more people to work in mental health and substance use disorders, because like everything in the economy right now, there is a severe shortage of workforce," Ulrey said.
Providers say the rates paid by the Oregon Health Authority are too low. In response to a similar issue in Washington state, lawmakers recently approved a 7% increase in payments to providers, Ulrey said. Prior to her current role, she served five years as Director of Public Health Policy for Seattle and King County.
Another issue facing Oregon is the end of the pandemic – the "grand denouement". Up to 300,000 Oregonians are at risk of losing health coverage that state governments and the federal government have temporarily covered during the pandemic.
Oregon officials intend to devise a new plan to cover tens of thousands of them, but that will require federal government approval and funding.
"There's a whole process to make sure it doesn't have any negative impacts," Ulrey said. "Oregon has a very strong plan to make sure they will be able to do their best to reach everyone, let them know if they are still eligible or if not what they would be eligible for instead and be sure to mitigate the loss of health insurance coverage as much as possible.
On Thursday, Ulrey visited Salem Health, which launched the first mass vaccination site in the state, and she met with leaders from the Oregon Association of Hospitals and Health Systems. She said one issue covered was the 'boarding' problem, with people stuck in hospital waiting to be discharged because they have nowhere to go. Although hospitals have far fewer people with COVID in beds and intensive care units are no longer jammed, boarding continues.
"We still have nearly 600 people who are discharged, delayed or boarding – that's a lot," said David Northfield, spokesman for the hospital association.
Lisa Wood, spokeswoman for Salem Health, said it was an urgent issue.
"These are ongoing issues that Oregon and the nation must address, and we look forward to partnering with Director Ulrey and the Department of Health and Human Services on solutions to better serve our community," Wood said in the post. a statement.
There are not enough lower level care facilities, such as long-term care homes or rehabilitation services. They too are short-staffed.
The health authority has supported health facilities during the pandemic by disbursing millions of dollars to hire temporary professionals. Harris said hospitals have been preparing for weeks when those contracts end on Thursday. The National Guard also helped. Their mission also ends on Thursday.
Friday's conversation with Patrick Allen, director of the Oregon Health Authority, was expected to be high-profile, the agency said.
"We look forward to discussing important health issues and priorities for people in our state, including Medicaid, behavioral health and pandemic funding," spokesman Jonathan Modie said. He did not provide details.
Ulrey also planned to visit Oregon Health & Human Services to see the Northwest Native American Center for Excellence. The center, which received $800,000 in the recent federal budget signed by Biden, aims to train more Native Americans for the medical profession.
Oregon Capital Chronicle is part of States Newsroom, a grant-supported network of news outlets and a coalition of donors as a 501c(3) public charity. Oregon Capital Chronicle maintains editorial independence.