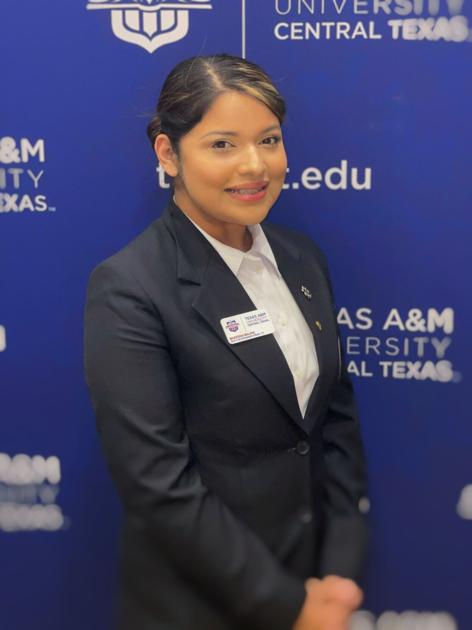 [ad_1]
Before 19-year-old Maeesha Maliha was even a teenager, she found herself celebrating her 12th birthday in a most unusual way.
There were no parties, no friends or family gathered, no candles and no cake. It was nevertheless an event that she would later consider to be one of the best birthday gifts she would ever have received.
Maeesha and her mother, Lubna Sarkar, then 33, had left their home in Dahka, Bangladesh, for the United States and Killeen.
Maeesha began her educational journey at Trimmier Elementary School, a fifth grader who spoke not a word of English. And while it was true that his knowledge of English was understandably low, the assessment tests had also revealed that his math and science skills more than made up for that.
She was placed in an ESL program designed to allow her to fit comfortably into English classes, but that didn't mean it would be easy.
Her brown eyes filled with emotion, Maeesha remembers that day vividly, seeing it again through the eyes of the child she was.
"Of course, I was well aware that I didn't speak English," she recalls. "And I thought it would hold me back. But even at that young age, I knew learning that was the key to anything I wanted to accomplish, so I was determined to master it, and I did.
She described dedicating herself to learning the language with a purposeful purpose and maturity well beyond her early years.
"Every time someone left the house to do anything," she explained, "I made them take me with them. I had learned the English alphabet in school in Bangladesh, but had never used it.
Arming herself with this and the fundamentals she was learning as an ESL student at Trimmier, Maeesha spent her first summer in the United States determined to learn English, describing what she called "the Taco Bell experience ".
"I could look at a picture on a menu, see the word, point at it, practice saying it, and eventually I built a working vocabulary," she said.
But determination alone has not overcome all obstacles. When she read a fifth-grade history book aloud, she said, she could pronounce words, but she was keenly aware that she didn't sound like other children. But by the time she entered sixth grade, she not only did it with better language skills, but also with the knowledge she could and did on her own.
"It was an important moment for me," she recalls. "In Bangladesh, education was not free like here in the United States. My mom's family, mom, and stepfather all contributed financially so that I could go to school.
Here in this country where she had barely been a citizen for a year, she understood that not only was it free, but that it was a benefit she would never take for granted – once again demonstrating wisdom of a person much older than her.
Women and girls, she added, generally did not pursue courses or careers in math and science; and when they did, it was because they came from families who had the financial means to allow them.
And in the rare cases that this happened, women were not rewarded with opportunities, as the social structure assumed that men were heads of households and, as such, better suited to scarce and coveted jobs. in science and mathematics.
Here in the United States, however, Maeesha knew she was free to pursue her love for math and science. As a result, both flourished.
Entering Early College High School in 2016, she did so with the same intention that guided her in fifth grade, noting that she knew she wanted to continue her college education.
"I wanted to challenge myself," she said. "We didn't have educational opportunities like this back home, and I knew it was rigorous, but I wasn't afraid to work hard. I was ready for it and knew it was essential for where I wanted to go.
Graduating with Distinction in 2020, Maeesha is entering the next phase of her higher education journey this fall as a new student at Texas A&M University-Central Texas – this time as a biology student with a minor in chemistry. , recipient of the coveted Texas A&M University Board of the Regents Fellowship and future candidate for the A&M Flagship School of Medicine at College Station.
Dr. Laura Weiser-Erlandson, chair of A&M-Central Texas Science Programs, welcomed Maeesha to the program, noting that the number of women and girls participating in the program has steadily increased over the past five years.
"All of our students have pursued incredibly meaningful careers," she said. "They found work in the medical community, the forest service, graduate programs, and medical schools."
And it was with this goal in mind that Maeesha seized another unique opportunity with the help of the career and professional services staff at the University. She applied and got a competitive internship as a Disney intern which is expected to start next month.
Her classes, she says, will be taken online until the internship ends in January 2022.
Jessica Doner, A&M-Central Texas Career and Professional Development Coordinator, worked hand-in-hand with Maeesha, nurturing her long-term goals, offering career advice designed to enhance her application to medical school.
"While it may seem like Disney has nothing to do with training as a doctor, the exact opposite is true," Doner observed.
"Medical schools have traditionally been very competitive environments, and those competing for admissions must have outstanding academic records in advanced mathematics, biology, chemistry and advanced sciences."
"But the medical profession has started to pay attention to applicants who have both interpersonal skills and scientific background. This Disney course is perfectly suited to demonstrate it.
Of all the lessons Maeesha learned in the first two decades of her young life, she cherishes opportunities that first presented themselves as challenges, she says, because they bring the best rewards.
Looking back, she says, she took on the challenge of learning English in record time. She later challenged herself to enroll and complete Early College High School. After graduating with honors, she immediately enrolled at A&M-Central Texas, again challenging herself to complete a rigorous premedical program and, as if that wasn't enough, an additional six-month internship with Disney in Florida that will require him to both work and complete college full-time.
"Bigger challenges bring bigger payoffs," Maeesha said in a neutral tone. "Just as big risks have big rewards. It's never easy, but if it's one thing I've learned, it's that when a person puts their whole being into setting big goals, it's like that decision becomes the key to unlocks the next big thing.
[ad_2]